Aquatic Creations designs and installations consider the natural surroundings to create a low maintenance, Eco-friendly water feature, Koi and goldfish ponds, or pond less water features that will stay healthy with minimum effort. Your water feature will provide you years of enjoyment by encouraging a naturally balanced living system and serene lifestyle.
The first step to consider is to decide what type of feature you want built. You should consider what type of aquatic life you want in the pond. Is it going to be a home for goldfish or Koi? Or, is your main concern for the aquatic plants? Perhaps you only want the pond for the sound of a waterfall. Each type of feature will need to be planned for its specific requirements. Keep in mind that the most common mistake water gardeners say they made when acquiring their first pond was building it too small. A small pond limits the number of fish and plants you can add. One saving grace is that you almost always can add on to your water feature, space permitting.
Water Feature Construction
Construction begins by digging a below ground reservoir to hold the water. Depending on the size and length of the waterfall, a shallow reservoir may be sufficient. A reservoir only needs to be large enough to hold sufficient water to keep the pump below water when the system is running. Unless you install an automatic water supply valve, you need the system to hold a little more water than necessary to allow for evaporation. Most water reservoirs for fountains are about two feet deep while those for waterfalls should be three to four feet deep. This is because a waterfall generally uses more water within the system and the evaporation is greater.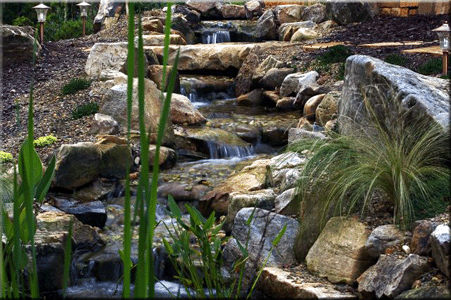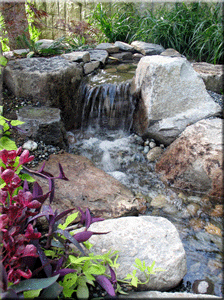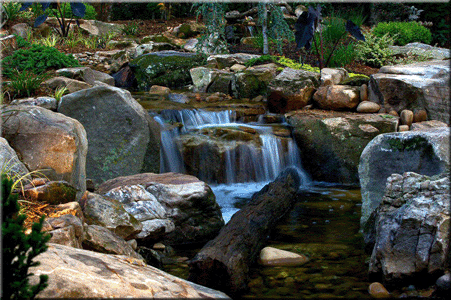 Pond Less Water Features
Sometimes it may be desirable to have a waterfall or a fountain without a pond. Someone with small children or someone who only wants a water display without fish or plants may prefer this approach to having an open pond. What is visible is an area of water worn pebbles or small river rock with the fountain or waterfall disappearing into them. The pump and water are below the rock which eliminates the danger of open water.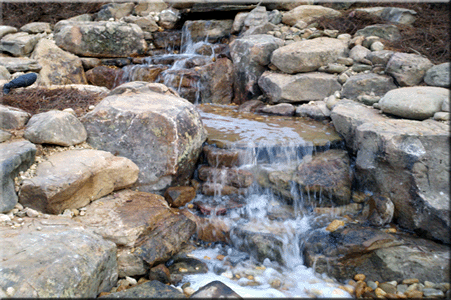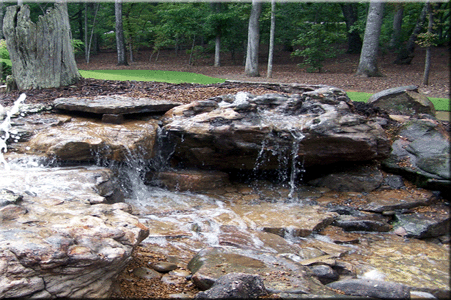 Other Water Features
A fountainhead may be used in a centerpiece type of display to accentuate a driveway or entrance. The sound will be different falling down onto stone instead of water but the visual effect will be the same.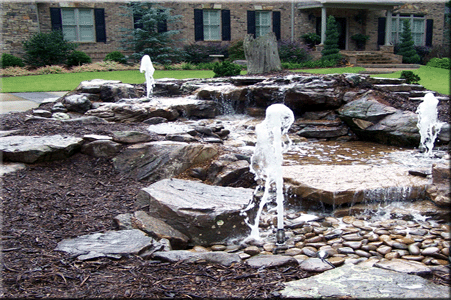 Another popular option is to use attractive ceramic urns or water vessels. One or more of these could be used. A nice visual effect is an urn tilted on its side with water filling the urn and then overflowing to the unseen pond below. This also produces a pleasant sound with a large volume of water overflowing the urn. An urn can also be placed upright and level with the water overflowing evenly around the urn.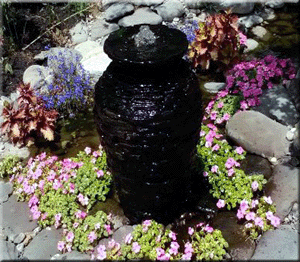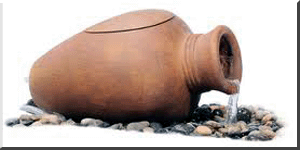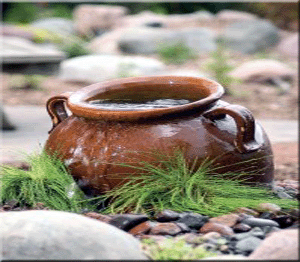 A waterfall well is another option for constructing your water feature reservoir. This option is a strong plastic container with mesh openings to allow the water to enter freely into the chamber while offering support against the pressure of the stone. It works better for large volumes of water such as large fountains or waterfalls.